Ray Blumhorst
Fathers & Friends Protest for Father's Rights in Sacramento CA
Members of Fathers 4 Justice (F4J), Children's Rights Initiative Sharing Parents Equally (CRISPE) and National Coalition of Free Men, Los Angeles (NCFMLA) met at the Family Relations Courthouse in Sacramento, California on Tuesday to protest laws, policies and decisions that deny parents (mostly Fathers) equal (50/50) shared parenting.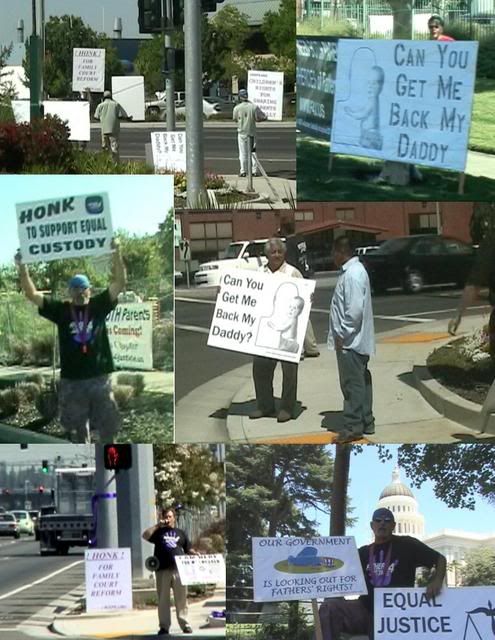 The protest began sharply at 8:00 A. M. at the William R. Ridgeway Family Relations Courthouse on Power Inn Road, and lasted for several hours.  During that time, participants presented a number of signs for public viewing and demanded (via megaphone) equal (50/50) parenting rights.  Judging by the participation of passing motorists who honked their horns, there was widespread support for that position.  As always, Larry's big CRISPE bus was a hit with one and all.
After several hours of protesting at the Family Relations Courthouse, most of the participants regrouped and headed for the State Capitol.  The State Capitol lawn was packed with people from another group, but we gathered in the southwest corner of the Capitol lawn and again presented our views to the public.  It was a hot day in Sacramento with temperatures over 90 degrees F. so after about an hour, we departed the Capitol lawn, each going our separate way.
For me, it had been a long drive up to Sacramento and it would be a long drive back, but the long trek was a necessary effort, because California does not honor the rights of parents (mostly Fathers) to be involved in their children's lives.
The week before Father's Day seemed an appropriate time to stage the Sacramento protest, but Father's rights groups agree that no special day is needed to protest the egregious treatment of parents (mostly Fathers) by Family Relations Courts and CA lawmakers.  Given the overt misandry with which many Judges and lawmakers treat California's Fathers, other gatherings to protest for 50/50, shared parenting are likely to occur.  When Father's began to be treated equally by our courts and lawmakers, it truly will be a happy Father's day.  :-)
Comments
comments
Powered by Facebook Comments